Shopping Cart
Your Cart is Empty
Thank you for your business!
You should be receiving an order confirmation from Paypal shortly.
Exit Shopping Cart
Byzantine Medieval Hypertexts
The idea of hypertexts from the Middle Ages sounds absurd. We think of the Middle Ages as a time of rampant illiteracy and premature death. We remember stories of monks meticulously scribing away in Latin to preserve the heritage of Western civilization against the onslaught of the barbarian hoards, but we tend to forget that the Renaissance was conceived and transmitted to the West through Byzantine monks meticulously scribing away in Greek and Slavic scripts under far greater pressure from the Eastern invasion.
The information on this website presents the theory of hypertext and its medieval application in Byzantine manuscripts, using examples from the Theodore Psalter, a manuscript created in 1066 in the Stoudious monastery near Constantinople. Hypertextuality in this case manifests as a complex interaction between the text and the illustrations in the manuscript and the text as it relates to other manuscripts and its historical context.
This website was created by Tatiana Nikolova-Houston, doctoral student in the School of Information at the University of Texas at Austin, in partial satisfaction of the requirements for TLC 331,Medieval Hypertexts, Spring semester 2003.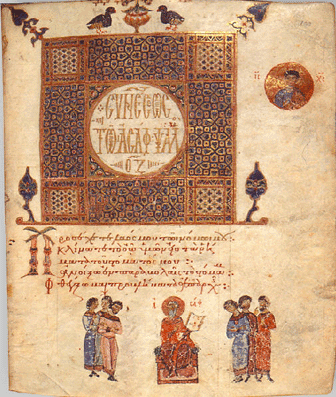 /